PRESS KIT PDF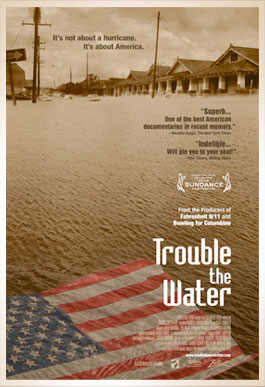 TROUBLE THE WATER takes you inside Hurricane Katrina in a way never before seen on screen. It's a redemptive tale of two self-described street hustlers who become heroes-two unforgettable people who survive the storm and then seize a chance for a new beginning.

The film opens the day before the storm makes landfall-twenty-four year old aspiring rap artist Kimberly Rivers Roberts is turning her new video camera on herself and her 9th Ward neighbors trapped in the city. "It's going to be a day to remember," Kim declares. With no means to leave the city and equipped with just a few supplies and her hi 8 camera, she and her husband Scott tape their harrowing ordeal as the storm rages, the nearby levee breaches, and floodwaters fill their home and their community. Shortly after the levees fail, their battery dies.

Seamlessly weaving 15 minutes of this home movie footage shot the day before and the morning of the storm with archival news segments and verite footage shot over the next two years, directors Tia Lessin and Carl Deal tell a story of remarkable people surviving not only failed levees, bungling bureaucrats and armed soldiers, but also their own past.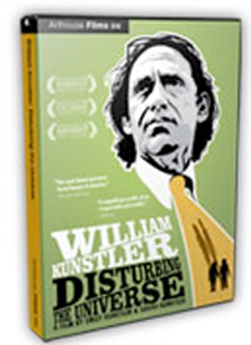 In William Kunstler: Disturbing the Universe filmmakers Emily Kunstler and Sarah Kunstler explore the life of their father, the late radical civil rights lawyer. In the 1960s and 70s, Kunstler fought for civil rights with Martin Luther King Jr. and represented the famed "Chicago 8" activists who protested the Vietnam War. When the inmates took over Attica prison, or when the American Indian Movement stood up to the federal government at Wounded Knee, they asked Kunstler to be their lawyer.
To his daughters, it seemed that he was at the center of everything important that had ever happened. But when they were growing up, Kunstler represented some of the most reviled members of society, including rapists and assassins. This powerful film not only recounts the historic causes that Kunstler fought for; it also reveals a man that even his own daughters did not always understand, a man who risked public outrage and the safety of his family so that justice could serve all.

Give Up Tomorrow exposes a Kafkaesque world
of corruption and injustice.

In a murder case that ends a country's use of
capital punishment, but fails to free an innocent man,
two grieving mothers personify the chasms that
divide the Philippines.